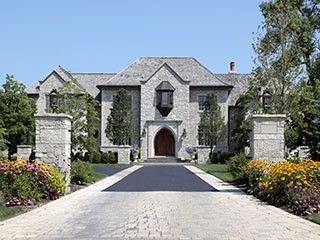 Pavers make an excellent surface for your driveway, with numerous advantages over asphalt or concrete. They're safer, more durable and easier to repair than other surfaces, and most importantly, they carry real curb appeal. Our customers are always amazed by the look and feel of their new driveway, and we agree - there's nothing to beat it.
Matching Your Home's Aesthetic
With other driveway surfaces you don't have a lot of choice - you can choose black or gray, and that's it. Pavers let you choose the perfect combination of styles, shapes and colors to suit your home. Pick out a combination of mocha and sand cobblestones to emphasize your property's vintage appeal, or opt for smart, elegant slate grays. Don't worry about setting it up, as our team will take care of that part.
A Longer-Lasting Surface
Paving bricks retain their color much more than alternative materials; they'll look just as good in the future as they do now, assuming they're regularly cleaned. In addition to this, any bricks that become stained or damaged can be replaced fairly easily. Damage to a concrete or asphalt surface can't be fixed so easily and is often left untouched.
Fast And Flexible Installation
A paved driveway can be constructed in any shape you like, with any combination of designs. It takes a lot less time to prepare, too; once our team sets the bricks in place, you'll be able to use the road within 24 hours. Alternative solutions take up to 5 days to become useable and may take even longer in particularly hot, cold or wet weather.
A Safe Surface
Safety is always our company's first concern. Driveway pavers are by far the best choice to prevent slips and falls, since they allow water to drain safely away much more easily than it would on a sealed surface. In addition, the textured surface of pavers provides much firmer footing which helps to prevent slips. Speaking of safety, what about a closely related subject? We're talking about security. It's important to keep your property protected from unwanted visitors and thieves. If you need some help from local driveway gate experts, as far as we're concerned, there's only one company to call - Gate Repair Los Angeles.
Find Out What We Can Do
Our team has the skills and experience to create a truly unique paved driveway for your home. Simply get in touch with our experts at S&P Hardscape Remodeling Los Angeles today to find out how we can help you.
A Few Informative Answers
What kind of pavers can be used for a driveway?
If you want to improve the look and curb appeal of your asphalt or poured concrete driveway, there are all sorts of options to choose from, each with unique characteristics and qualities. Cobblestone pavers (or Belgian Blocks) are usually made of weather and stain resistant hard granite or basalt rock, which can make them last for a very long time with minimal maintenance. Concrete pavers that are made of a mix of cement, gravel, and pigments offer the advantages of low cost and ease of installation, but their drawbacks are a much shorter lifespan and weed growth and the movement of individual pieces. Brick pavers are made of clay and are available in a range of colors and shapes. With professional installation and proper maintenance, they can last about 25 years and can be made to emulate the look of old-style cobblestones. There's also stamped concrete, which can be painted and textured to look like bricks or cobblestones, or any other surface option. However, if some driveway repairs are needed, it won't be as easy as it would be with individual pieces.
Driveway pavers vs concrete. Which option is better?
A concrete driveway is generally more affordable, durable, and easy to install and to maintain, while pavers are more appealing and offer unlimited design options. They're also easier to repair and add resale value to the house. However, as with anything pertaining to real estate and exterior design, the decision what to choose depends on the homeowner's budget, preferences, and needs. In terms of appearance – pavers are always the winners, with an unlimited range of options. Maintaining them can be labor intensive as clearing weeds is an ongoing issue, but they don't crack, and repairs, as well as replacement of individual pieces, would be easier. When it comes to the installation – pouring concrete is simpler, and when the cost is considered – it can often be cheaper. There are also stamped concrete options that can be textured and painted to give the appearance of bricks and even cobblestones. Another factor that should be mentioned is safety. Concrete can become slippery when wet while pavers have a better grip (except for when they're made of concrete).