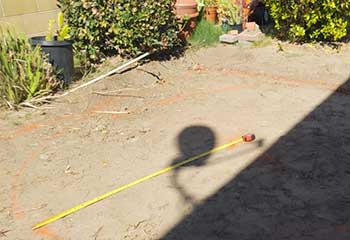 Paver Walkway
Customer Issue: Mr. Gilman ordered a garden walkway to better show off his family's new property. He wanted it finished quickly, so his wife could start planting around it as soon as possible.
Our Solution: For the winding walkway the Gilmans wanted, we needed to plan with great care. We marked the outer bounds of each twist and curve with stakes, hoses, and flags before digging it out. We rechecked the measurements and distances, smoothed the edges as needed, and then started laying the gravel and sand. Smooth conglomerate pebble and cement pavers, two centimeters above ground level, made up the walkway itself.
Robert Gilman
- Lake Balboa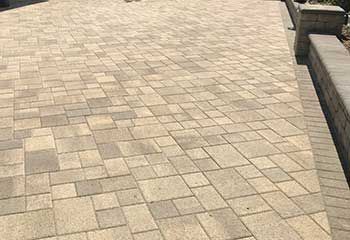 Paver Patio Installation
Customer Issue: The customer wanted a paved patio to fill the space between his driveway and the front door. This meant a clear delineation between the parking lot and the porch to keep things safe.
Our Solution: We laid a cinderblock and sand layer over the initial gravel pit, to make sure the porch was high above parking lot level. After leveling it all, we coated the top and sides with adhesive cement and layered imitation brick pavers with white highlights to make a perfect geometric covering. Then we put in a couple of steps, and a cast iron fence with higher supports going up to an attached wood and shingle cover.