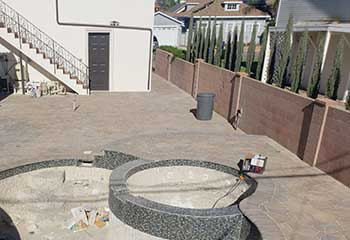 Hardscape Remodeling
Customer Issue: Mr. Calgary wanted the parking lot of his new house shrunk to make room for more trees. He also wanted to have a paver walkway and pond added in the back.
Our Solution: Breaking up the cement hardscape and leaving a smooth edge along the new boundary of the parking lot left the desired space open for soil-filling and replanting. The new edge needed a small barrier of stamped concrete for safety and cleanliness. The final result met the customer's complete satisfaction.
Brandon Calgary
- Marina Del Rey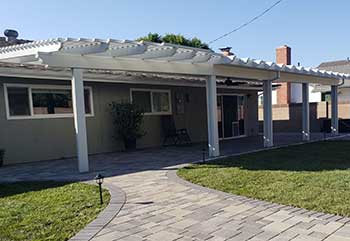 Patio Cover Installation
Customer Issue: Mrs. Armin decided to improve her family's patio with a detached roof and columns. She turned to us for help.
Our Solution: A small hardscape wall for support, four poles, and a wood and shingle roof turned the main body of this patio into a gazebo. Removing a few of the stone pavers near the house's back door turned the patio entrance into a path to the new outbuilding.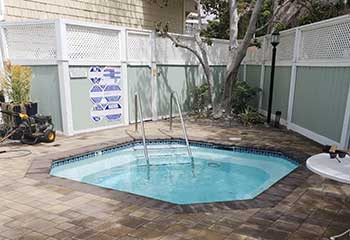 Pool Side Pavers Installation
Customer Issue: The Steeler backyard swimming pool needed some more hardscaping to create a buffer against the grass. She wanted to improve the paver pool deck to ensure it would keep dirt and insects at bay.
Our Solution: The customer wanted the job done quickly and inexpensively. After laying down sand and a mold our team poured in some concrete. Stamping it during the hardening process made it blend in perfectly with the cement pavers of the smaller, original poolside pavement within.