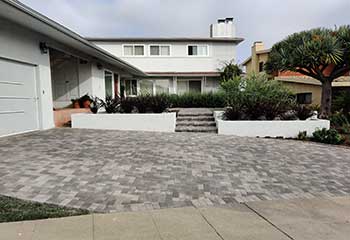 Paving Stone Driveway
Customer Issue: Mr. Smith wanted a driveway that would promote drainage and look good at the same time.
Our Solution: Mr. Smith was used to having excellent drainage because he had a gravel driveway for years. This is why our solution was to install a paving stone driveway. We excavated the area and made sure the gravel and sand base sloped away from the house. Next, we installed multicolored concrete pavers in the ashlar pattern, added the edging and filled the joints with sand.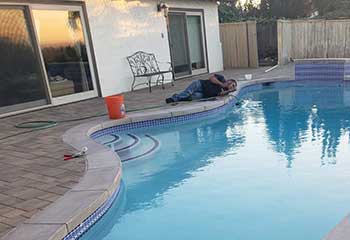 Paver Pool Deck Installation
Customer Issue: Mrs. Jones' wanted a pool area to be slip-resistant and cool to the touch.
Our Solution: After excavating the area, we compacted the soil and filled the trench with crushed stone and stone dust. Next, we installed the edge restraints and placed a layer of sharp-angled sand. We installed bluestone coping and laid the gold tumbled travertine pavers in French pattern. We finished the job by brushing masonry sand into the spaces in between the pavers.
Annie Jones
- Pacific Palisades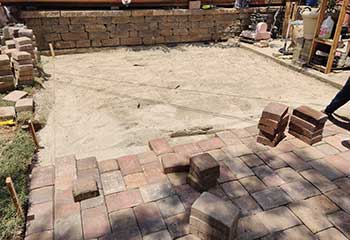 Backyard Patio
Customer Issue: Our customer's old dull patio just wasn't cutting it anymore.
Our Solution: Since the existing patio was structurally sound and its surface was intact, we agreed to use it as the base. We thoroughly cleaned the patio and then started forming a new slab of concrete. We used stamp mats to create the Roman slate pattern and colored the concrete with a dry-shake color hardener. We custom colored the border to match the shutters of Mr. Wilson's home.