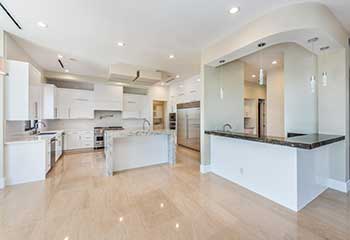 Kitchen Remodeling
Customer Issue: This customer wanted a bigger and brighter kitchen area where she could entertain her friends.
Our Solution: In order to let more light in, we needed to move and enlarge the window opening. We also took down the wall between the kitchen and living room to make room for a big kitchen island that would double as a casual eating space. Mrs. Nicholson opted for white kitchen cabinets and white tiled backsplash, which made the kitchen airier. The stainless steel appliances and soft gray marble countertops were the finishing touches that made this kitchen look amazing!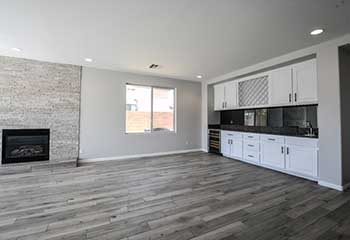 Living Room Remodeling
Customer Issue: Mr. Randall's home had a rustic feel and a beautiful fireplace that needed a more appropriate framing.
Our Solution: The living room had warm wood flooring and we believed a stone wall would best complement the overall style of the room. Once we made sure the wall was structurally capable of supporting the weight of natural stone tiles, we prepared it for the installation. As usual, we started from the bottom and worked our way up, making sure to minimize the appearance of vertical joint lines. We returned four weeks later to seal the stone and make it easier to clean and maintain.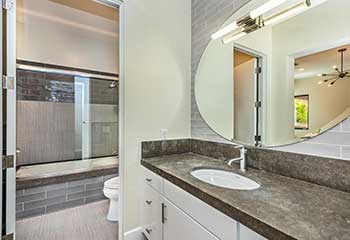 Bathroom Remodeling
Customer Issue: This customer wanted to get rid of his linoleum bathroom flooring and add tile to the walls.
Our Solution: Since the bathroom was functional and that the amenities were in good condition, we had a very straightforward job. Once Mr. Massey decided on the tiles he loved best, we removed the existing flooring and did the necessary prep work. He wished to add some fun and color to his bathroom, so we installed tiles with a patchwork effect on the floor and as a backsplash. We installed long white subway tiles with a matte finish on the rest of the walls that made the bathroom look bigger than before.
Benjamin Massey
- Valley Glen