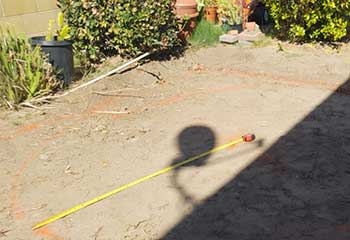 Walkway Installation
Customer Issue: Our customer wanted us to install a garden path that would complement his wife's garden.
Our Solution: Once our customer gave us the green light for our design, we started digging the soil. We tamped it and did the same with the gravel and sand we poured into the trench. Next, we laid the pavers and brushed some more sand into the joints. The quartzite flagstone blended in perfectly and looked like it had always been there!
Mr. Arthur Pearson
- Northridge
Backyard Fire Pit
Customer Issue: Mr. Walters wanted to create a cozy atmosphere in his backyard and make the days last longer.
Our Solution: We dug the soil from the area dedicated to this project and then tamped the soil to make a stable foundation. We filled the excavated area with aggregate and sand and then leveled the base. We laid tumbled paver blocks around the pit center and made a patio around it so we could install a seating wall as well. Once we achieved the desired height, we added coping both to the wall and fire pit. We finished by putting a steel fire ring into the pit.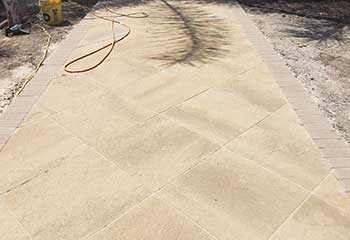 Driveway Replacement
Customer Issue: Our customer's existing driveway was boring and dull and was ruining the architecture of his home.
Our Solution: Since the existing driveway was in excellent condition, we suggested revamping it with stamped concrete. After Mr. Donovan chose the pattern, we were good to go. We thoroughly cleaned the driveway before forming a new slab of concrete. Once the concrete had the right plasticity, we started placing stamp mats. We returned after a few days to apply the curing compound, and then once more to apply the sealer.
Mark Donovan
- Lake Balboa