Paver Pool Deck
Customer Issue: The Schlenk swimming pool had a thin paved walkway around it. They wanted a much bigger paved area, and to have it raised up with steps going down into the pool.They also wanted more privacy and better protection from leaves and other debris.
Our Solution: There was nothing but bare earth and grace in the desired deck area, so we had a clean slate to work with. We leveled a cinderblock and cement wall around it and filled the enclosure with sand and gravel. Then, we lined the bulwark with tile pavers on polymer sand with cement adhesive. The staircase went into the new deck just above the existing pool steps.
Sophia Schlenk
- Canoga Park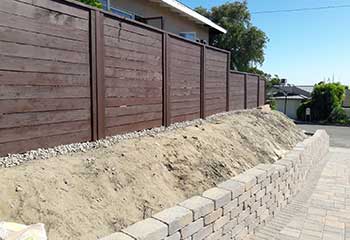 Backyard Remodeling
Customer Issue: Mrs. Ulson commissioned a full hardscape remodeling of her backyard. She needed earth moved, a new fence installed, and a walkway paved between her back porch and garden shed.
Our Solution: The property had plenty of unwanted earth, so we built the desired mounds by moving it and building stone bulwarks to keep it in place. We installed a hardwood picket-post fence around the perimeter, adjusting with the natural curve of the ground. The paved path added at the end was brick pavers over gravel and polymer sand, curving around the new hills.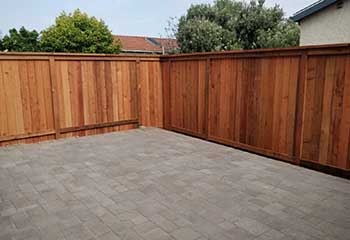 Driveway Repair
Customer Issue: Mr. Gerahim's driveway and fence took some serious damage in a car accident. He needed it repaired, and wanted a more secure fence put in place of the old one.
Our Solution: We broke and stripped the pavers off of the accident site, and laid down fresh sand and gravel before repaving it. Replacing the walls alongside the driveway took much more work. We dug up the fence posts, removed their concrete foundations, and paved both gutters to build a proper stone wall.
Fenton Gerahim
- West Hills