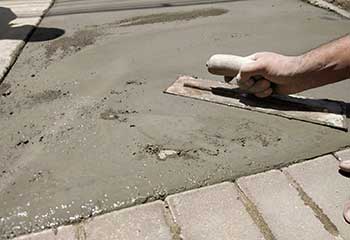 Backyard Patio
Customer Issue: After one too many accidents with collapsible chairs, our customer wanted a surface he could furnish with safer and more stable furniture.
Our Solution: We thoroughly prepared the area, meaning we compacted the excavated soil and evenly spread out the paver base. To best compliment the architecture of our customer's home, we made the brick pinwheel bond by placing a contrasting paver in the center of each section. We left Mr. O'Brian with a dilemma - whether to furnish his patio with a conversation set or an outdoor sectional!
Arthur O'Brian
- Beverly Hills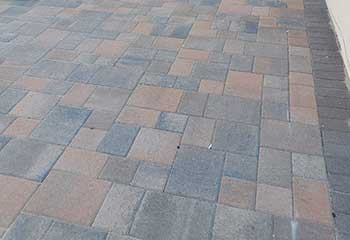 Paving Stone Driveway
Customer Issue: This customer's concrete driveway had multiple cracks and sunken sections.
Our Solution: First, we talked to Mr. Miller and realized that interlocking pavers would best reflect his personal style. We had to remove the existing driveway and make sure that the new subgrade didn't lack uniformity, strength, and stability. We also put a layer of crushed stone and then applied base sand and slope for drainage. Once we installed interlocking concrete pavers and an edge restraint, we filled all joints and gaps with polymeric sand.
Jamie Miller
- Century City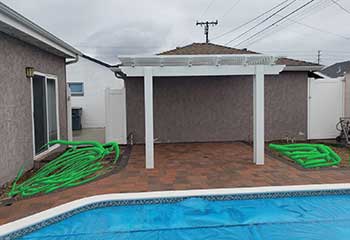 Paver Pool Deck Installation
Customer Issue: Our customer wanted to turn his pool deck riddled with puddles into a child-friendly area.
Our Solution: As soon as Mr. Bateman gave us the green light for our travertine pool deck design, we got down to work. After we tore down the existing pool deck, we compacted the soil as well as the layers of crushed limestone and sand we added for good drainage. We placed the pavers close together in a French pattern and filled the joints with sand. The textured and porous surface of travertine was the perfect solution for this family!
Arthur Bateman
- Beverlywood