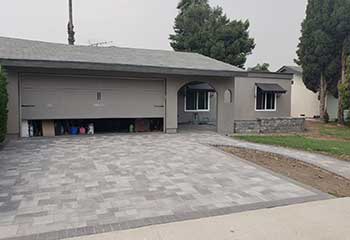 Driveway Paving
Customer Issue: The Stewarts remodeled their house with an attached garage, and needed a hardscape driveway added to connect it with the gate.
Our Solution: After clearing a path from the old garage location by the gate to the new garage, our paving work began. A packed sand substrate, and then cement pavers placed on top. They were carefully shaped together with cement adhesive to fit the curve of the land without any sharp angles or seams. The new driveway matched the customer's complete satisfaction.
Cadia Stewart
- Los Feliz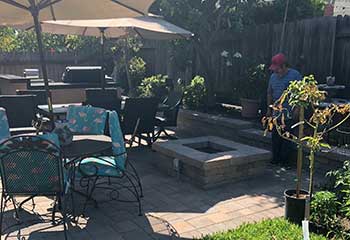 Backyard Paver Patio Installation
Customer Issue: The customer wanted a comfortable paver patio with a table and seating outdoor kitchen area added to her backyard.
Our Solution: Cement-sealed rectangular bluestone pavers lain over sand and paving adhesive formed the floor of the new hardscape patio. Four rectangular gaps left us room to insert the custom made stone tile table and benches. The outdoor kitchen features then received the same sealing to lock them in place.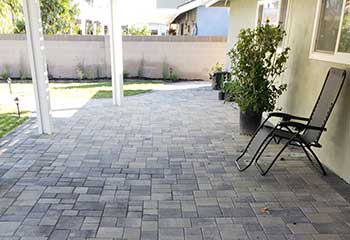 Patio Cover Installation
Customer Issue: Mr. Martin decided on some extra hardscape covering to better protect his patio from sun and rain.
Our Solution: Two brick columns at the leading corners of the small patio were all the supports the new roof needed. Watertight tiles and shingles built over a brick and hardwood base and anchored into the house's outer wall completed the sturdy package. The patio is now completely protected from harsh sunlight and, should it occur, rain.
West Martin
- Little Armenia