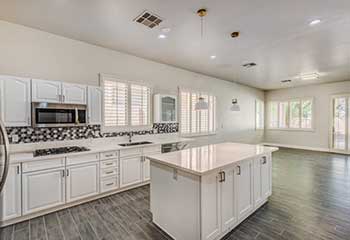 Kitchen Remodeling
Customer Issue: The Summers loved having people over and wanted to be able to entertain them in their kitchen.
Our Solution: We made a larger island with an L-shaped wall on the backside. Next, we put a quarter-circle countertop on the island at a higher level than that for the food prepping. We relocated the appliances to make it possible for the person cooking to face the kitchen and be a part of a conversation. We finished by installing a multi-hued backsplash and cabinets that complemented the color of the new granite countertops.
Jeremy Summers
- Playa Vista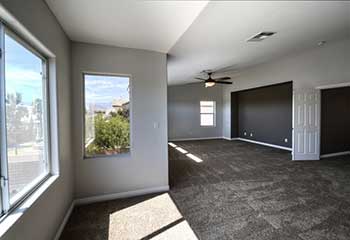 Room Addition
Customer Issue: The porch door was leading straight into the kitchen area.
Our Solution: We used the existing porch as a natural extension of the house, and decided to close it off and turn it into a mudroom. We reinstalled the existing front door and added two large windows to allow sunlight in. We also made sure to install siding and roofing which matched the rest of Mr. Boone's home. Last but not least, we laid a new tile floor that made the mudroom look as if it had been a part of the original design.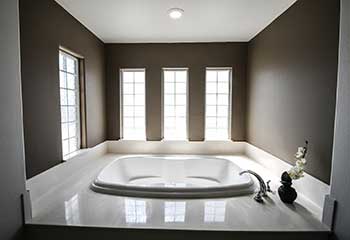 Bathroom Remodeling
Customer Issue: This customer decided to get rid of the wallpaper and carpeting and tile the whole bathroom.
Our Solution: Mrs. Casey loved the look of her original shower tiles, so together we chose the tiles that best complemented them and tiled the floor. We used a darker shade for walls so that the bathroom wouldn't look too bland. To better tie in the tiles with the rest of the bathroom, we stained the cabinetry and fabricated a new apron for the tub. Not only did the two-tone bathroom look more elegant, but it also became much easier to keep clean.