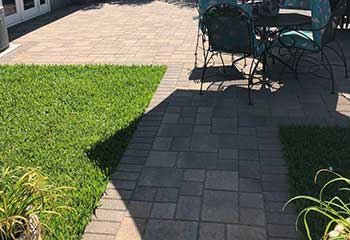 Walkway Paver Stones
Customer Issue: The backyard was often soggy and muddy and the customer wanted to add a paved path to make it more pleasant to walk around through the area.
Our Solution: Intending to complement both the design of the backyard patio and the look of the reading area, our team chose to use natural stone that will easily integrate into the environment and the existing patio blocks. Our team built the walkway following the customary steps of paver installation, making sure to seal them afterwards to protect the walkway's structural integrity.
Terry Carroll
- Monte Nido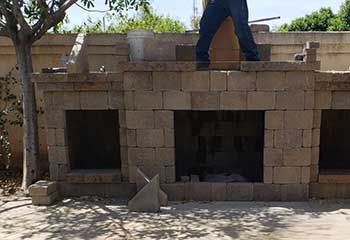 Backyard Fire Pit Repair
Customer Issue: Hairline cracks in the pavers of the backyard fire pit started to appear and the structure was unsafe to use.
Our Solution: After letting the pit completely cool down for a couple of days, our team used special cement that can withstand the high temperatures of the fire to fill in the cracks in the pavers, and replaced a few pavers that had larger holes in them.
Scott Harrington
- Malibu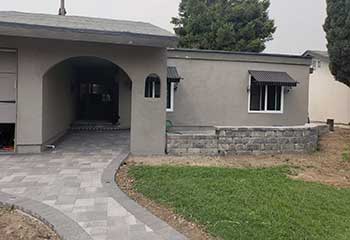 Flagstone Patio Pavers Installation
Customer Issue: Once the landscape work was completed it was still missing a patio that fits into the general architecture of the property.
Our Solution: Our team suggested paving the patio with flagstone pavers cut into irregular shapes. The unique, non-tailored look of the natural stone provided us with the opportunity to be creative and design an attractive space, complementing the sophistication of the house.
Stanley Fletcher
- Malibu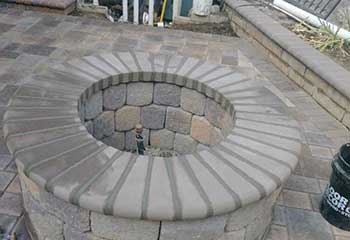 Water Feature Installation
Customer Issue: Wanted to add an abstract fountain to his backyard that would complement the existing landscape elements.
Our Solution: Our team discussed the different options available using the same bricks that the patio was built of, and to complement the walkways and the architecture of the house. The chosen design combined bricks and natural stones, and our team hand built it on the site to Mrs. King's delight.
Kristal King
- Monte Nido