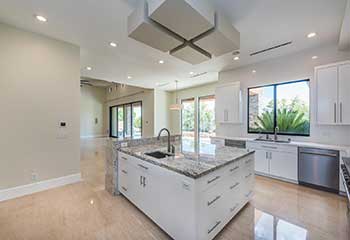 Kitchen Remodeling
Customer Issue: The original kitchen didn't have room for a dishwasher Mr. Whitaker's growing family desperately needed.
Our Solution: Small children meant easy clean-up was a must, so we decided to use granite for floors, countertops, and backsplash. We merged the kitchen and the dining room by removing the floor to ceiling cabinets and installing a kitchen island that doubled as storage. We also had to move most of the wiring to accommodate all the appliances, old and new. The final result was exactly what Mr. Whitaker expected - a modern looking, functional kitchen.
William Whitaker
- Del Rey
Bathroom Remodeling
Customer Issue: Mr. Monroe's existing bathroom felt cramped and had wall to wall carpeting.
Our Solution: We worked closely with Mr. Monroe in order to define the style he liked best. Once we determined the look and layout that met his wishes, we got straight to work. We took down the wall hiding the toilet to open up the bathroom and installed a bigger glass walk-in shower. We also installed a modern freestanding bathtub and a polished travertine floor. We tied everything together by installing a marble countertop that perfectly matched the tiles on the walls.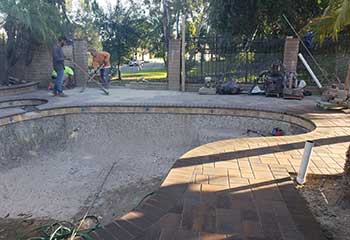 Pool Remodeling
Customer Issue: This customer wanted to add a spa and replace the existing tiles with ones that better expressed his personal style.
Our Solution: As soon as Mr. Charles decided on the tiles and pavers and okayed our spa design, we got down to work. Once we emptied the pool and removed the existing tiles, we built a spa with a waterfall that would spill into the pool. We installed matching mosaic tiles in both the spa and the pool and went on to install pavers of a contrasting color around them.