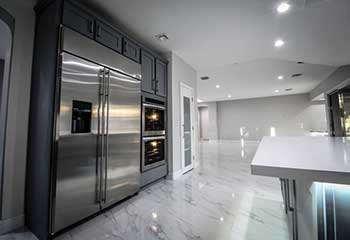 Kitchen Remodeling
Customer Issue: The kitchen felt cluttered and was in desperate need for additional kitchen storage.
Our Solution: We had to completely empty the kitchen and start from scratch because the floor was not level. Once we leveled it out, we laid marble-looking tiles that would match the real marble countertops Mr. Atkins had chosen. We installed 42-inch cabinets with crown molding that made the room feel taller. We also changed the original kitchen layout to make space for a new fridge and dishwasher.
Joshua Atkins
- Mar Vista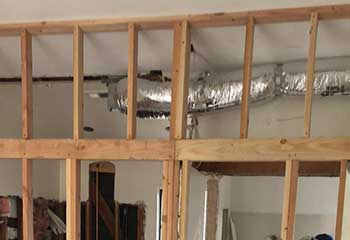 Room Addition
Customer Issue: This customer wanted her children to have separate rooms.
Our Solution: First, we did the foundation prep work and completed the framing. Once the framing was done, we did the roofing in such a way so as to tie it in with the existing roof and make the addition seamless. We then added windows and doors and did the necessary electrical and HVAC work. Having insulated the room and hung the drywall, we moved on to making the room more beautiful. This included installing trim, painting the walls and laying the floor.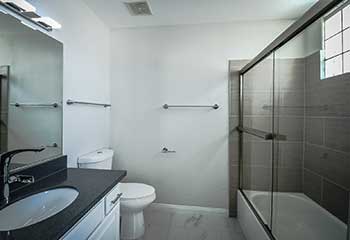 Bathroom Remodeling
Customer Issue: Mrs. Bowers was happy with the original layout of the bathroom, but wanted to install new bathroom amenities.
Our Solution: We started by ripping up the existing carpeting and installing marble look tiles both on the floor and walls. We expanded the walk-in shower and installed a frameless glass shower door and enclosure. Not only that, but we also made a built-in shower bench as well as a shampoo niche. Next, we installed a freestanding tub with a handheld shower wand. In accordance with our customer's wishes, we also installed grab bars throughout the bathroom.