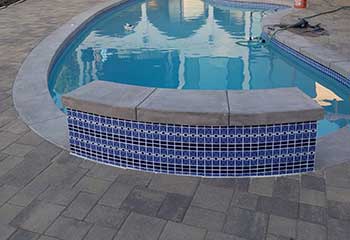 Paver Pool Deck
Customer Issue: The Hachipuris were tired of dirt and grass getting into their swimming pool. They decided to build a raised concrete deck on its upwind bank with some seating and planting pits.
Our Solution: There was no reason to remove the existing paved pool lining and buffer walkway. Instead, we moved some earth and sand into place to make a raised mound behind it, and boxed it in with cement and stamped pavers. We built it out of the same style of pavers as the existing walkway. We also incorporated that walkway into the new steps going down from deck to pool.
Apsu Hachipuri
- Baldwin Vista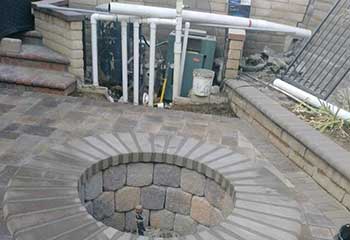 Paver Fire Pit
Customer Issue: The Tartarovskyas decided to refit their backyard for extended family gatherings. A fire and barbecue pit with seating would be perfect for keeping their young grandchildren excited.
Our Solution: We tore out a circular patch of sod and topsoil and filled it in with gravel and sand except for a one meter diameter spot in the middle. On top of that, we laid down some six inch thick stamped pavers and dug out the bare patch in the middle. Once the central pit was perfectly shaped, we lined it with polymorphic sand and added a layer of thin cement pavers. Finally, we laid a detached stone paver path from the back door to the new fire pit.
Miliana Tartarovskya
- Sunkist Park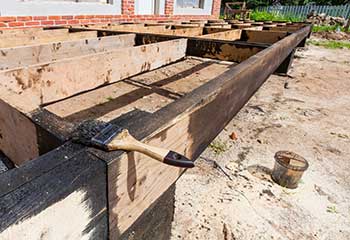 Attached Patio Cover
Customer Issue: Mr. Morton's wooden patio cover rotted over the years, and almost collapsed. He needed a complete rebuilding to save his patio.
Our Solution: The wooden beam that held the old patio cover to the side of the Morton house remained solid. So, after tearing down the rest of the structure, we reused it and nailed in some new treated beams and frame. We mounted the cover on four pillars with buried cement foundations, and then tiled and shingled the new covering. This cover also got some waterproof insulation under the shingles, to protect the wood better this time.
Perry Morton
- Ladera Heights